Wondering what foods are clean eating approved? Check out this clean eating grocery list and Grab the Printable pdf to Help you with your grocery shopping!
Does eating clean seem too hard or too weird? Are you wanting to make easy healthy food without having to use strange ingredients? And most importantly, do you want to eat food that tastes good?!
The foods I have listed in this post are foods that taste good, are recognizable, and are super healthy. These foods are the basics that will help you to make easy recipes or use as substitutions in your own recipes. In other words, these aren't foods that you will have to find new recipes for if you don't want to. Most of them can be substituted in your recipes without any adaptions.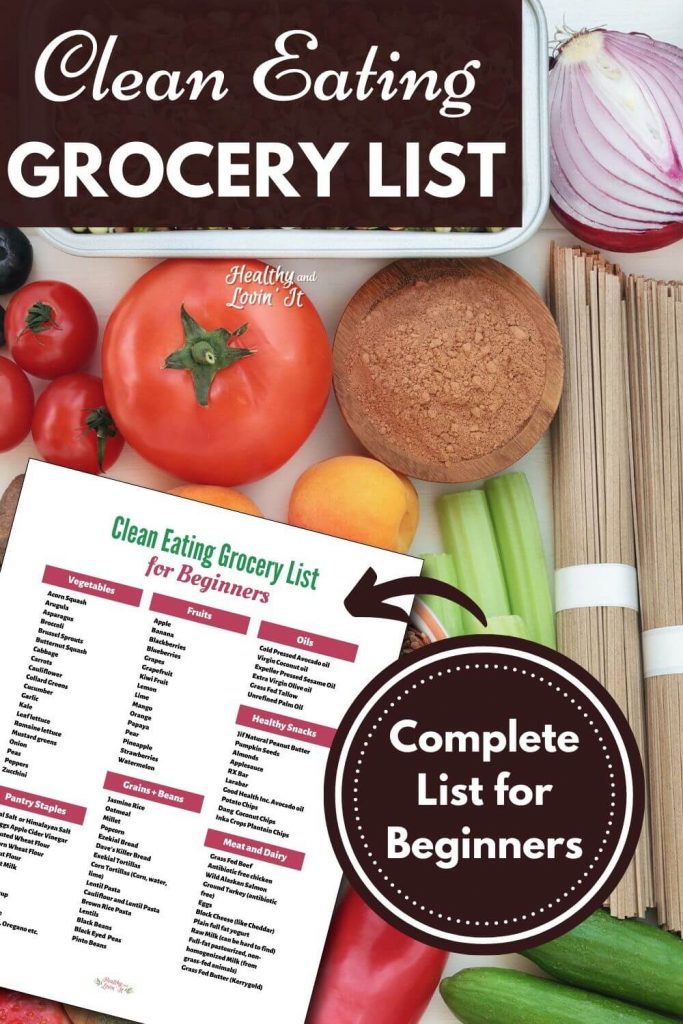 This post may contain affiliate links. Please see my disclosure for more details.

How to Start Eating Clean
When you first start clean eating, the number one rule is to be easy on yourself. It can be easy to fall into the "I must do it all, and I must not eat anything bad." But, this is almost impossible. My advice is to do what you can and feel good about every change you make. Eventually, it will be second nature to eat healthy.
I know a lot of people follow the 80/20 rule, which is to eat healthy 80% of the time and not worry about the rest. I think this is a great rule. My analytical mind says "exactly what is 80%? But you don't have to be exact-just try to eat healthy on a normal basis. And don't worry about it when you need or want to eat something that isn't the healthiest.
Related-5 Easy Ways to Motivate Yourself To Eat Clean (Even If You are Tired or Stressed)
Easy Clean Eating Tips
One of the easiest ways to start eating clean is to find healthy alternatives for your unhealthy favorites. That is much easier than buying foods that you have no idea what to do with. The list of foods in this post were chosen because they were either easily recognizeable or really easy to work into your diet.
Buy foods you like! This is very motivating! The good news is that there are so many healthy foods to choose from.
Don't be afraid to fry foods. If you choose a healthy oil, frying can be healthy. And who doesn't like french fries?! 🙂
If you want to know more about the benefits of clean eating or you want to know how to start eating clean, check out this post: Simple Clean Eating for Beginners-Benefits, Foods to Eat + Printable Guide.
Clean Eating Food List
Here is a complete list of foods I would recommend for the clean eating beginner. These foods are "regular foods" that are kid friendly. (At the end of this list is the clean eating food list printable.)
Clean Eating Vegetables
Any fresh vegetable will work for clean eating. Frozen vegetables are great too, though you will need to check the ingredients. Sometimes, they do add unnatural ingredients to frozen vegetables. But most of the time, frozen vegetables are awesome. And they are frugal and easy to cook! Here are some super healthy vegetables-
Acorn Squash
Arugula
Asparagus
Broccoli
Brussel Sprouts
Butternut Squash
Cabbage
Carrots
Cauliflower
Collard Greens
Cucumber
Garlic
Kale
Leaf Lettuce
Romaine Lettuce
Mustard Greens
Onion
Peas
Peppers
Zucchini
Clean Eating Fruits
All fresh fruits are part of a clean eating diet. Some canned fruits are ok also. Just make sure there are no added ingredients besides fruit and fruit juice. Canned fruits are not as healthy as fresh, so eat fresh when you can.
Dried fruits can be healthy, but some are too sweet to eat in large amounts. I didn't include dried fruits in this list. But if you love them, go ahead and eat them-just be aware of carb counts.
Here are some favorite clean eating fruits:
Apple
Banana
Blackberries
Blueberries
Grapes
Grapefruit
Kiwi Fruit
Lemon
Lime
Mango
Orange
Papaya
Pear
Pineapple
Strawberries
Watermelon
Healthy Oils
Fats are super important for health-especially hormonal health and brain health. I used to eat lower fat, but I discovered that a higher fat diet helped me in so many ways. I had better digestion, and I lost weight. Plus my cholesterol actually improved even though I was eating a lot of coconut oil.
I am not saying that you should eat tons of fat, but I am saying that putting a little oil in your food is healthy! I put a Tbsp or so of coconut oil in a pan before I cook something for my family. As long as you are also eating a balanced meal of vegetables, protein, and carbs, you can eat some fat too (of course I am talking about healthy oils, not the cheap "vegetable" oil found in grocery stores.)
If you eat the wrong kind of oils, that is going to cause some problems. The kind of oils that I recommend below are good for your whole body. The good news is that the healthy fats taste really good! I will link to good brands in the list below. There are many unhealthy brands, and I wanted to help you choose the really great oils.
Related: The Best Virgin Coconut Oil Brands + How to Get the Lowest Price
Clean Eating Meats and Dairy
Even though I am really frugal and have a really low grocery bill, I still buy quality meats and dairy (I am dairy free, but my kids aren't). Conventional meats and dairy can be truly bad for you, so I prioritize these things when I am buying my groceries. If you are curious how I keep my grocery budget low even with quality meats, you can see how I get cheap quality meats in the following posts:
The Best Chicken to Buy (Real Food on a Budget)
The Ultimate Guide to Grass Fed Beef-Benefits, Pricing, and Healthy Recipes
Is Canned Salmon Healthy (Surprising Benefits + Yummy Recipes)
As far as dairy, I rarely buy milk. Conventional milk has some serious issues. But, I would buy raw milk if it was available in my area. Full fat pasteurized, non-homogenized milk from grass fed animals is also a really healthy milk.
The right kind of milk can be awesome for your teeth, bones, and immunity. But,since I can't find that kind of milk here, I don't buy much milk. I feed my kids block cheese and grass fed butter instead. Both of those help to cover the nutritional bases that they would miss from milk.
If you are wanting a milk to use in recipes, and you aren't able to find healthy milk in your area, consider using coconut milk. You can but it canned or make homemade coconut milk.
Here is a list of the healthiest meats and dairy:
Grass Fed Beef
Antibiotic Free Chicken
Wild Caught Alaskan Salmon
Ground Turkey (antibiotic free)
Eggs
Block Cheese (like Cheddar)
Plain Full Fat Yogurt
Raw Milk
Full Fat Pasteurized Non Homogenized Milk (from grass fed animals)
Grass Fed Butter (Kerrygold brand)
What Snacks are Healthy?
There are lots of basic clean eating foods that you can make into snacks. (Like fruit, vegetables, leftovers or homemade muffins.) But I wanted to include some ready made snacks into this unprocessed foods list, because if you are a beginner, you probably want some prepackaged snack ideas.
Here are some truly healthy and yummy prepackaged snacks (or grab and eat snacks!)
Jif Natural Peanut Butter (great with fruit or bread)
Pumpkin Seeds (I like the ones at Aldi)
Almonds
Applesauce
Healthy Grains and Beans
There are many kinds of healthy grains and beans. To truly make grains and beans healthy, they need to be soaked or sprouted. Otherwise they can be hard to digest and they can also cause nutritional problems. Unsoaked grains and beans contain phytic acid. Phytic acid impairs the absorption of minerals (like iron, zinc and calcium) and may promote mineral deficiencies. This can lead to problems with tooth decay or problems with immunity.
One way to get around this problem is to eat grains that aren't whole grains. Of course, many white flour products are terrible for you! Jasmine rice is an exception-it is healthy even though it isn't whole grain.
I don't think you should worry about phytic acid too much-an occasional serving of unsoaked oatmeal or non sprouted bread won't hurt you. (If you are having serious digestion problems or problems with tooth decay, then you may want to be more vigilant.) But the average person will be fine eating some phytic acid. That is why that in the list below, included a few non sprouted things like the brown rice pasta. I also included lots of sprouted or soaked grains-like the corn tortillas made with lime, or the Ezekial bread.
If you are interested in learning how to soak beans properly, you can check out The Everything Beans Book.
Here are some healthy grains and beans.
Jasmine Rice
Oatmeal
Popcorn
Ezekial Bread
Dave's Killer Bread
Ezekial Tortillas
Corn Tortillas (corn, water, lime)
Lentils
Black Beans
Black Eyed Peas
Pinto Beans
Pantry Staples
Here are some staples that will help you with a clean eating lifestyle. These basics will help you to transition to clean eating without to much fuss. For example if you need a healthy substitute for white flour, try sprouted wheat flour or einkorn flour.
I also included coconut flour because it is cheap and healthy and perfect for those who want to try out grain free baking-like these peanut butter coconut cookies!
Here are some basic clean eating pantry staples:
Coconut Flour
Coconut Milk
Maple Syrup
Spaghetti Sauce (brands without msg or unhealthy oils like this one)
Garlic, Basil, Oregano etc.
Get Your Clean Eating Groceries Cheaper With Thrive Market
Thrive Market has some great deals on organic food-especially on the "deals" section of their site. They also give free gifts with your orders. If you are a new customer you get to choose a free gift (up to a $24 value). Plus every time you order from Thrive Market after that you get a free gift (for orders over $49). As far as their prices on items, some things are a really great deal! When I just checked their deals section, their 16 oz. non-gmo corn chips were on sale for $2.24!! (I did notice that their price on coconut oil is not as good as my method for the cheapest coconut oil.)
Thrive Market also has "extra savings" and cashback offers. Cashback means you get money back to save on your next purchase. Extra savings means you can get from 10%-30% back on certain brands.
Another really great feature at Thrive Market is that you can shop by specific diet type. Almost all of the items at Thrive are clean eating items, but if you want to be even more specific you can. For example, you can choose to shop for items that are only paleo. There are a lot of categories to choose from, so you can shop for what is important to you whether that be gluten free or high fiber or even low fodmap.
If you join now, you can choose a free gift (up to a $24 dollar value).
Deals at Thrive Market
Thrive Market carries some hard to find items like organic sprouted wheat flour. I recommend this flour for clean eating beginners because you can substitute this flour in any recipe that calls for whole wheat flour. Sprouted flour is so healthy and easy to digest. Using sprouted flour may even help you to avoid tooth decay. The Thrive Market price on sprouted wheat flour beats Walmart's price!
Thrive Market's brand of maple syrup is also a good deal. Their 32 oz bottle beats Walmart's price for maple syrup. Also if you choose to autoship it, you save an extra 10%.
Thrive Market has many organic beans for really good prices. The dried kidney beans are $2.69 on autoship for 14 oz.
I also found avocado oil potato chips on Thrive Market for $2.24 a bag if you choose auto ship! This beats the price of my local grocery store and online at Walmart as well. My local Walmart doesn't even carry them in the store.
Find out more about Thrive Market or sign up for a membership here.
Free Clean Eating Food List Printable
Would you rather have a print version of this clean eating grocery list? You can get the free unprocessed food list pdf by clicking on this link.
You may also be interested in:
Thrive Market vs Vitacost-Price Comparison and Must Haves
* Disclaimer: This post is not medical advice. I am not a doctor or medical professional. I share only from my own experiences and research. Consult your own practitioner before making changes in your diet or supplements.