Here is an easy house cleaning schedule with daily, weekly, and monthly cleaning tasks.
This post may contain affiliate links. Please see my full disclosure for more details.
House cleaning can really get to me sometimes. I actually don't mind doing some cleaning, but I do mind it when the house seems to be beating me! Can you relate? Do you ever feel like you just can't keep up with all the household chores no matter how much you try? Or even worse, you try really really hard to keep your house clean and you succeed-BUT you are too worn out to do things you want to do?
One problem I used to run into is that I didn't know where to start. I would often just jump in, but usually that meant I would choose wrongly-I would choose chores that weren't that important. Then I would be too tired to do what actually needed to be done that day.
Now, I know better. I know which things are vital, and which chores can be put off until I really do have time and energy.
How to Stop Being Overwhelmed with Housework
I used to deal with chronic fatigue, so I especially have a heart for overwhelmed moms. If you are overwhelmed, then this article is for you. Here are some things that you can do to make your life simpler and your cleaning a whole lot easier.
Do a Little Housework Everyday
On the house cleaning checklist pdf that I made for you, you will notice that I have a place for daily chores. These are the most important cleaning tasks. If you don't have time to do some of the weekly or monthly chores, it is ok. If you occasionally miss cleaning the bathroom mirrors, everyone can still be happy and healthy. 🙂 However, if you put off the daily chores, you will find that it will cause some problems!
Here are the important daily chores-
Wash dishes
Wipe counters and stove
Wipe Table
Do 1 load of laundry
Put away clothes
Take out trash
Sweep high traffic areas
I definitely recommend using the dishwasher as much as possible. Run it every night, so you can wake up to clean dishes in the morning! (My favorite non toxic dishwasher powder is by Seventh Generation. It really works great even in my hard water.)
What Should Be Cleaned Weekly
A basic cleaning schedule that can work really well is to choose a different room each day.
Monday: Bathrooms
Tuesday: Kitchen
Wednesday: Bedrooms
Thursday: Living Room
Friday: Dining Room/Laundry Area
Saturday: Other Projects (Work in yard etc.)
Sunday: Day of rest
The most important rooms to clean every week are the bathrooms and the kitchen. These rooms tend to get more germy than other areas of the house. Plus, if you don't clean the old food out of the fridge, it can be tough to fit your groceries in there.
The other rooms are also important, but not as important. Which means that if you skip doing one of these areas one week, it is not the end of the world.
I try to do these rooms every week, but I know what it is like to truly not have the ability to do everything all the time. I used to have chronic fatigue and I had to choose carefully what I spent my energy on.
Because of what I have been through, I have a whole lot of empathy for overwhelmed moms. So, even though I recommend doing these weekly chores every week, I give suggestions for which things can be skipped if needed. If you are having health problems, or if you are just really busy with little ones, I want to give you some ideas of what things could be put off until later.
Bathroom
Clean sinks
Clean toilets
Sweep and mop floor
Disinfect doorknobs, cabinet handles, and faucets
Clean mirrors
Clean shower or tub
If you are super busy, you can put off cleaning the shower or tub until next week. Ditto for the mirrors. Also, using cleaning wipes can make bathroom cleaning a whole lot easier!
Kitchen
Clean old food out of fridge (wipe down shelves if needed)
Clean sink
Wipe down outside of fridge
Clean inside microwave
Sweep and mop floors
Dining Room and Laundry Area
After the bathrooms and kitchen, the dining and laundry areas are the next most important. Especially if you have a messy toddler eating in your dining area!
Declutter and Organize (just do a general straightening and put things away or get rid of them.) If you are like us, random things end up in the dining room that don't belong there.
Clean floors (Sweep, mop, or vacuum)
Living Room
It is nice to have the living room clean just in case you have visitors. It is not as vital as the other areas I have already gone over. So, if you are really having a crunched week and/or you are not worried about visitors, you could put this room off until you had more time. Here are the basic living room chores:
Declutter and Organize
Floors-(Sweep, mop, or vacuum)
Bedrooms
The bedrooms are important, and I enjoy having a clean bedroom. However, you can always close the door if you find you don't have time for cleaning this area. I definitely would recommend making sure the other areas of the house are clean first. The basic bedroom chores are:
Declutter and Organize
Vacuum (or sweep and mop)
Wash sheets
Weekend Projects
The weekends are a great time to do other projects. Things like working in the yard or cleaning the car.
You may have noticed that I did not add dusting to the regular daily chores on the printable, but I did add dusting under other projects. The reason for this is because I feel that dusting is not nearly as important as the other regular chores. I wanted to give you the option to dust weekly if you wanted, but also give you the option to not dust and not feel guilty. 🙂
Make Cleaning Easier
I am a fan of cleaning products that make cleaning easier! I am also a fan of products that are non-toxic and won't harm your body. Here are a few of my non-toxic cleaning favorites on Amazon. (The feather duster makes dusting so easy!)
Easy House Cleaning Schedule
Want the free printable cleaning schedule with the daily and weekly chores? Click here for the daily + weekly cleaning checklist.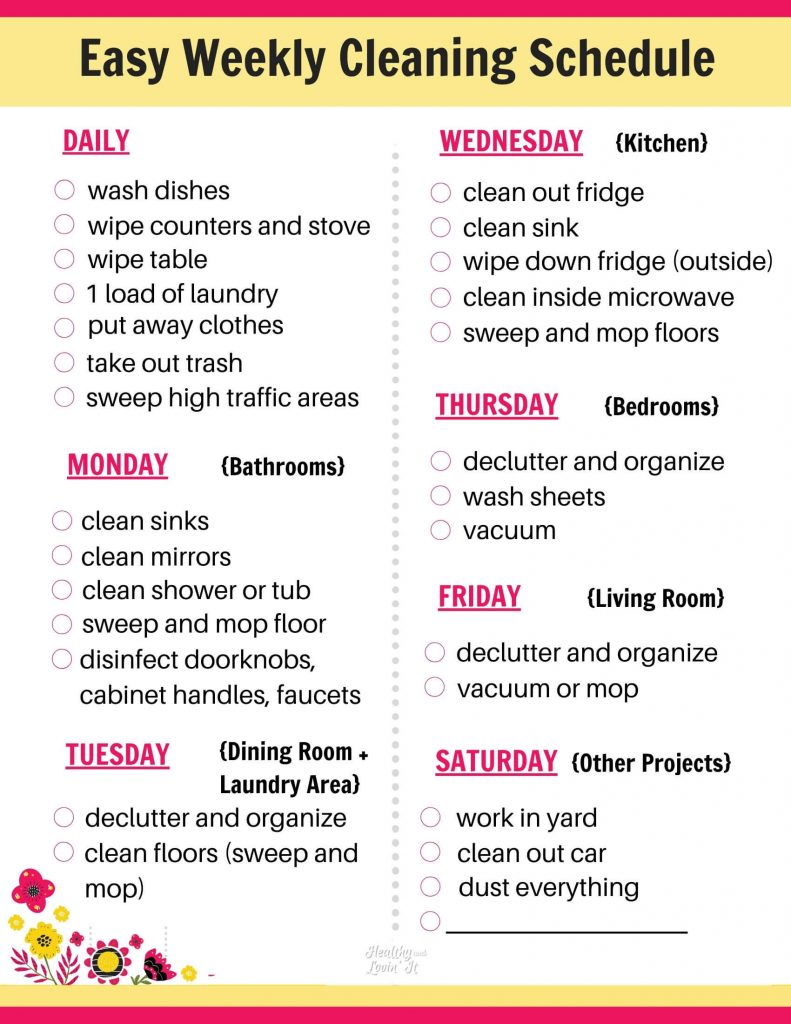 If you want a blank version of this daily and weekly schedule plus 5 more cleaning printables, check out my Ultimate Cleaning Bundle in my Etsy store.
What Should You Clean Monthly?
There are other household chores that are important, but don't need to be done weekly. These chores are more like once a month chores. These are chores like:
Wipe baseboards
Clean windows
Clean out pantry
Dust ceiling fans
Vacuum air vents
Wipe chair rails molding
Wash blankets
Tidy bookshelves
Clean the garage
Clean Blinds
Wash Rugs
Clean out dryer vent
Clean trashcans
I made a monthly printable cleaning schedule for you. This monthly cleaning checklist is full of chores that you might otherwise forget. Some of these chores can be done less than once a month if you are in a busy season of your life. The ones that are more organizing type chores (like clean out your bedside table) can be done less often. But, it is nice to have all the chores printed out so that you can tackle a one or two of the tasks when you have the time.
Click here to print the monthly house cleaning checklist pdf.
Want some blank cleaning printables to make your own customized cleaning schedule? I have quite a few cleaning printables available in my Etsy store. Here is a picture of of one of my cleaning bundles-(click on the picture to be taken to the Etsy listing.)
You may also be interested in:
A Stay at Home Mom Schedule that Works + Stay at Home Mom Daily Schedule Template.
Free Printable Monthly Schedule Template-Two Cute Designs!
Free Printable Errands Checklist + Weekly Errands List
4 Really Easy Microwave Cleaning Hacks Using Natural Ingredients